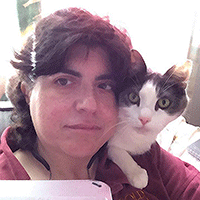 Platinum Impact is owned and operated by Sarajoy Pickholtz.
I have a background in writing, graphics, and marketing, but I have been doing hands-on web development since 2001, and digital marketing since 2013, I love learning new things, and each step of my career has been exciting and fun.
My diverse background has led me to my current station, as a project consultant for several organizations. I am able to use my varied experiences, along with my communication and people skills to assist my clients in everything from managing websites, and search engine optimization (SEO) to metrics, digital marketing, email automation, graphics work, writing and editing, and even print marketing.
While I'm not actively seeking new consultation clients at this time, I'm always happy to talk to businesses and organizations about their marketing needs. I work closely with an excellent support team that includes writers, coders, illustrators, and designers who collaborate on projects when things get busy. This allows for just the right team member to work on just the right project and ensures continuity and consistency.